Posts for tag: dental implants
By Larry Erwich, D.M.D.
November 27, 2012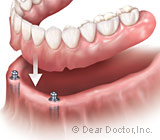 What does the term "two-implant overdentures" mean?
For more than a century, complete dentures were the only care option for edentulous (toothless) people. As a solution, these left a lot to be desired, particularly for the lower jaw. Now dental technology has developed a better alternative that combines two strategically placed dental implants and a traditional lower denture that has been modified to fit over the two implants — thus the term.
What are the problems with traditional dentures?
The problem is that when you lose teeth, the bone that supported the missing teeth begins to shrink away. This is known as resorption, and it is the reason that dentures fitted too soon after teeth are lost quickly become loose. Bone loss happens most rapidly during the first year and is four times greater in the lower jaw than in the upper.
Why not just use dental adhesives to hold dentures tightly to the lower jaw?
Zinc, a major ingredient in most dental adhesives, has been associated with neurological disorders and may be unsafe. In addition, dental adhesives are expensive and the cost of frequent usage adds up.
Besides dental adhesives, are other health problems associated with dentures?
Yes, edentulism has been related to poor nutrition. Many edentulous people switch to soft foods with high fat content because they find healthier foods like vegetables and proteins difficult to chew.
What are dental implants?
Dental implants are replacements for the roots of teeth, the parts that are below the gumline and anchored in bone. They are usually covered with a crown that shows above the line of the gums.
What are the benefits of implants?
Most importantly, implants reduce the amount of bone resorption. Studies have shown about 75% less resorption in parts of the jaw with implants compared to areas without them. Since most of the bone loss occurs within the first year after tooth loss, it is important to place implants within this time period.
Is a complete set of dental implants a good solution for edentulism?
Yes, it can be a good solution, but it is not for everyone. Some patients, who have lost a great deal of bone support, need another solution for cosmetic reasons that offer more facial support like an implant overdenture. In addition, depending on their resources and insurance, some people require a less expensive solution.
Why does the two-implant overdenture work better for the lower jaw?
Based on differences in bone volume, density and other factors, we think that four to six implants are needed to retain an upper implant overdenture. Thus a two-implant overdenture is a good solution to consider for a lower jaw, but other options might be preferred for an upper jaw.
Contact us today to schedule an appointment to discuss your questions about dentures and implants. You can also learn more by reading the Dear Doctor magazine article "Implant Overdentures for the Lower Jaw."
By Larry Erwich, D.M.D.
October 22, 2012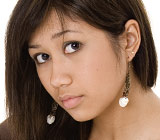 Worldwide it is generally accepted that the best method for permanently replacing a missing tooth is with a dental implant. However, one fact that can affect the timing of placement of dental implants is that the person should be fully mature. In this case, it means that growth is complete, in particular the jawbones have completed growing. And while we are sensitive to teens who may beg for a dental implant to replace a missing, damaged or traumatized tooth, parents or caregivers should know that research and experience have shown that it is better to wait.
The main reason it is best to wait is because natural teeth grow and move with the jaws as they mature whereas implants don't. Natural teeth change positions and move with the jaws as the jaws grow, implants don't. They are fused to the bone in one position and as the jawbone grows, they get left behind and appear to sink as the adjacent teeth and jawbone grow in harmony.
Although it is not really possible to determine exactly when a person has finished growing, it is generally best to wait until the jaw is fully matured and developed. However, we are the most qualified, along with our orthodontic colleagues to "guesstimate" based on family history, age and genetics. Specialized radiographs (x-rays) of the skull and jaws may also be helpful in determining the timing of jaw growth completion and when implants can be placed.
Dental implants are a permanent solution to a dental problem and thus should not be used until all growth is complete. Think about it. Your young child gets a beautifully restored smile through a dental implant...and for a year or two it looks fantastic. However, as your child's jaws continue to grow, everyone begins to notice gaps between the implant and adjacent teeth. So it makes sense to avoid this eventuality; by just waiting until late teens when beautifully restored crowns on properly positioned dental implants should last for many many years.
To learn more on this subject, read the Dear Doctor article, "Teenagers & Dental Implants." You are also welcome to contact us to discuss your questions or to schedule an appointment.
By Larry Erwich, D.M.D.
July 29, 2012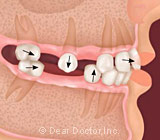 Why is it important to replace missing teeth with restorations such as dental implants? You might be surprised to find that the damage caused by missing teeth is much greater than the simple gaps left in your smile.
As the years go by, teeth lost early in adulthood cause structural changes in a person's face. By age 45 changes in facial structure are already visible in the form of sunken cheeks. By 60, cheeks and lips lose their support, resulting in an aging look. This process continues and if the teeth are not replaced, much of the structural support of the person's face is lost.
These changes are caused by loss of bone. Although it may seem static, bone is actually living tissue that needs constant stimulation to maintain its form and density. With normal stimulation it is in a constant state of resorption (breaking down) and deposition (building up). Teeth provide the needed stimulation for the bone that surrounds them (called alveolar bone) as they meet each other during biting, chewing, and speech. When the stimulation continues, the bone continues to rebuild itself. Without this stimulation, the bone resorbs, does not build up again, and loses substance.
Without stimulation, alveolar bone loses width, height, and volume. Since your teeth and their surrounding bone support your chin, cheeks, and lips, this has a powerful effect on your appearance. It may also affect your ability to chew and to speak.
As alveolar bone diminishes, the next layer of bone also begins to resorb. This is the bone of the jaw itself. The lower part of the face begins to collapse, and the cheeks become hollow. This effect is especially noticeable for people with no teeth (edentulous).
Usually the first tooth to be lost, due to infection and decay, is a molar (back tooth). In the past, a missing single back tooth was frequently replaced by a fixed partial denture (FPD). A crown is provided for each of the two teeth on the sides of the gap, called abutment teeth, to support a false tooth in the middle. However, if they are not well cared for, the abutment teeth may be the next to succumb to decay.
Today the treatment of choice is an implant. A dental implant is a tooth-root replacement made of titanium, which fuses with the bone — making it very stable. Above the gums it is covered by a crown that looks like a natural tooth. The benefit of the implant is that it continues to provide stimulation to the alveolar bone, preventing bone loss.
Implants are also a good choice in the case of multiple missing teeth. They can be used to support bridges or false teeth (dentures). The results are an improved, younger appearance and better functionality.
Contact us today to schedule an appointment to discuss your questions about missing teeth. You can also learn more by reading the Dear Doctor magazine article "The Hidden Consequences of Losing Teeth."