Posts for tag: fillings
By Larry Erwich, D.M.D.
October 03, 2017
Does an amalgam filling or tooth-colored filling last indefinitely? You must know from experience that these dental restorations have a
certain lifespan--typically seven to ten years, says the American Dental Association. That's why you need to see your dentists in Cheshire, CT, Dr. Larry Erwich and Dr. Elana Celliers, regularly to have your existing fillings inspected and replaced as needed. That way, your smile stays as healthy and attractive as possible.
Signs a filling needs replacing
Your dentist in Cheshire wants you aware of what's going on in your mouth. So besides flossing daily, brushing twice a day and eating a tooth-friendly diet, you should actually look at your teeth and note any changes in how they feel or function.
In other words, you can partner with Dr. Erwich and Dr. Celliers in optimizing your oral health. Here are signs which may indicate a dental filling requires replacement:
You sustain a blow to the mouth. Besides tooth avulsion, tooth fracture results from oral trauma. Restorations such as porcelain crowns and dental fillings may be chipped, cracked, loosened or completely dislodged. So if you get hurt, see your dentist as soon as possible.
Your tooth is highly sensitive to heat, cold or sugary foods. Although you may not see it, a crack in or around a filling may be developing, allowing bacteria to invade the space and exposing sensitive inner pulp.
You have a throbbing toothache. Why would a filled tooth hurt? Possibly, the filling has deteriorated and a deep cavity has developed. Left untreated, it could become infected and need root canal therapy or even extraction.
You have a very large, old filling. Your tooth is at risk for fracture and for decay occurring at the juncture between tooth enamel and the existing restoration. Your dentist may wish to replace it with composite resin or a full or partial crown to avoid further damage.
Bruxism is a continual problem. You habitually grind and clench your teeth, putting pressure on your fillings. Your dentist will determine if a mouth guard would alleviate the stresses and if any fillings were compromised.
You have metal fillings that show when you smile. Your dentist may replace them with composite resin.
Avoiding fillings

Of course, the way to avoid replacing Cheshire fillings is not to have them in the first place. Dr. Erwich and Dr. Celliers are big proponents of preventive dentistry. That means they'd rather see you twice a year for prophylactic services such as:
Oral examinations and digital X-rays as needed
Hygienic cleanings to remove harmful plaque
Fluoride treatments to strengthen enamel
Plastic sealants on deeply ridged back teeth
Also, the team encourages diligent oral hygiene at home, smoking cessation, mouth guards for sports and a low-sugar/carbohydrate diet.

Come see us

If you question the integrity of any of your restorations, contact Dr. Erwich or Dr. Celliers for an appointment in Cheshire, CT. Call (203) 272-7044.
By Larry Erwich, D.M.D.
October 03, 2012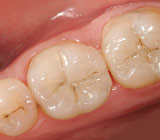 When you say "ahhhhh," are you worried about all your unsightly metal fillings? If so, did you know that your dentist can resolve your concerns through the use of tooth-colored fillings?
The public's demand for aesthetic tooth-colored (metal free) restorations (fillings) together with the dental profession's desire to preserve as much natural tooth structure as possible has led to the development of special adhesive tooth-colored restorations. And the demand is not limited to just the front teeth. In fact, many people are opting to replace all of their metal fillings — not just those in the front teeth — so that all of their teeth appear younger, fresher and as if they have never had any cavities.
Can you really mimic natural teeth? Proper tooth restoration is a lot more than just filling holes. It is a unique art applied with scientific understanding. Each tooth's internal shape and structure is the guide to how it must be rebuilt to successfully restore it. However, choosing which material to use to restore or rebuild teeth is a critical one based on scientific understanding, experience and clinical judgment — expertise we use daily in our office. The most popular options include composite resins and porcelains, as they allow us to mimic natural tooth colors and shapes. But for the most life-like, natural tooth-colored filling, your best option is porcelain. Porcelain, which is built up in layers, can be made to mimic the natural translucency and contours of tooth enamel.
But what about matching the color? Will it really match? Absolutely! Whether we use resins or porcelain, through our artistry we will create absolute tooth-like replicas. You will never know your teeth have fillings! And unlike metal alloys, these newer materials bond directly to the remaining enamel and dentin of which the teeth themselves are made, thus stabilizing and strengthening them. These techniques are even suitable for children's teeth and can incorporate fluoride to reduce decay.
Still undecided? If so, we understand. Feel free to contact us today to schedule an appointment to discuss your questions about tooth-colored restorations. You can also learn more by reading the Dear Doctor magazine article "The Natural Beauty of Tooth-Colored Fillings."