Posts for tag: oral health
By Larry Erwich, D.M.D.
November 08, 2012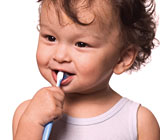 Ensuring that your children have good oral health is (or should be) the goal of every parent or caregiver. But how confident are you about this topic? The following true/false quiz will help you evaluate your expertise while learning more about keeping your child's teeth healthy.
Questions
All children older than 6 months should receive a fluoride supplement every day.
Parents should start cleaning their child's teeth as soon as the first tooth appears.
Parents should start brushing their child's teeth with toothpaste that contains fluoride at age 3.
Children younger than 6 years should use enough toothpaste with fluoride to cover the toothbrush.
Parents should brush their child's teeth twice a day until the child can handle the toothbrush alone.
Young children should always use fluoride mouthrinses after brushing.
Answers
False. Check with your child's physician or dentist about your children's specific fluoride needs. If your drinking water does not have enough fluoride to help prevent cavities, parents of a child older than 6 months should discuss the need for a fluoride supplement with a physician or our office.
True. Start cleaning as soon as the first tooth appears by wiping the tooth every day with a clean, damp cloth. Once more teeth erupt, switch to a small, soft-bristled toothbrush.
False. Parents should start using toothpaste with fluoride to brush their children's teeth at age 2. Only use toothpaste with fluoride earlier than age 2 if the child's doctor or our office recommends it.
False. Young children should use only a pea-sized amount of fluoride toothpaste. Fluoride is important for fighting cavities, but if children younger than 6 years swallow too much fluoride, their permanent teeth may develop white spots. Using no more than a pea-sized amount of toothpaste with fluoride can help prevent this from happening.
True. Because children usually do not have the skill to brush their teeth well until around age 4 or 5, parents should brush their young children's teeth thoroughly twice a day. You should continue doing this until the child can demonstrate a proper brushing technique.
False. Fluoride mouthrinses have a higher concentration of fluoride than toothpaste containing fluoride. Children younger than 6 years of age should not use fluoride mouthrinses unless your child's doctor or our office recommends it. Young children tend to swallow rather than spit it out, and swallowing too much fluoride before age 6 may cause the permanent teeth to have white spots.
Learn More
If you feel you missed too many of the above questions, read the Dear Doctor article, "Oral Hygiene Behavior."
By Larry Erwich, D.M.D.
October 31, 2012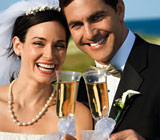 In a recent online poll conducted by Dear Doctor, the premier oral healthcare resource for consumers, 77% of those polled planned on visiting their dentist prior to their wedding. For some, this includes a thorough cleaning to remove stains and freshen both their smile and breath. However, a growing number of brides, grooms, and parents of the couple are seeking cosmetic dentistry or more specifically, a smile makeover, to transform their smile for their special day as well as their future.
If this describes your situation, take the first step towards the smile you have always wanted. To create your ideal smile, we will first meet with you to get to know you better and hear your concerns, goals, expectations and wedding day timeline. Bringing in photos or magazine images of smiles that you consider beautiful will help to ensure that we understand what you find attractive, as beauty can vary greatly from individual to individual. During this initial consultation, you will also learn about your smile makeover treatment options and what you could expect immediately prior, during and following each option.
Some subtle improvements we may consider are teeth whitening and bonding. Both of these options can take place in just a few office visits and produce very attractive results. Porcelain veneers and crowns can provide you with longer-term results that can last from 10 to 20 years. However, because they typically require 1 to 4 months advance notice, it is important to see us as soon as possible to ensure you have enough time before your special day. Another procedure that can play a dramatic role in your smile makeover is periodontal plastic surgery to improve and alter your gum tissues and their relationship to your teeth. For example, the appearance of "short" teeth can be corrected by lengthening them during a surgical procedure that has minor discomfort yet results in a life-long change.
Want to learn more?
Contact us today to discuss your smile makeover questions or to schedule an appointment. You can also learn more by reading the Dear Doctor article, "Planning Your Wedding Day Smile."
By Larry Erwich, D.M.D.
September 26, 2012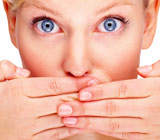 More than 2,000 years ago, an ancient Greek physician, Hippocrates, often called the father of Western medicine, devised a mouth rinse of herbs and wine to sweeten bad breath. This problem has been around a long time, and it is still a major problem for many people. According to some studies it is one of the three main reasons people seek dental treatment.
Here are some facts you may not know about bad breath:
Bad breath is sometimes called halitosis, which comes from the Latin halitus (exhalation) and the Greek osis (a condition or disease-causing process).
Chronic bad breath is usually caused by certain types of oral bacteria. These particular bacteria are present in about 25% of the population.
Bad breath has spawned a major industry in the United States. Americans spend nearly three billion dollars a year on gum, mints, and mouth rinses to sweeten their breath. About 60% of women and 50% of men say they use breath freshening products.
Diseases in the oral cavity such as tooth decay and periodontal (gum) disease can often cause bad breath. If either of these diseases are your cause for bad breath, treatment would be necessary to eliminate this problem.
The tongue is the most common location for bad breath. Bacteria are relatively sheltered on the back of the tongue, where they live on remnants of food, dead skin cells and post-nasal drip. These bacteria can generate volatile sulfur compounds (VSCs) that are also found in decaying animal or vegetable matter. VSCs are known by an unpleasant rotten egg smell.
Bad breath can also be caused by dry mouth (xerostomia). This condition affects millions of people and can result from smoking, alcohol or coffee drinking, and it is sometimes a side effect of medications. Another cause may be mouth breathing.
Halitosis can also originate in other parts of the mouth besides the tongue. These include inter-dental (between teeth) and sub-gingival (under the gums) areas.
When people are starving (and sometimes when they are dieting to lose weight), their bodies begin burning their fats causing their breath to develop the smell of ketones — which smell like acetone, similar to nail polish remover. If people are not eating or drinking the coating on their tongue increases as well, making VSCs more prominent.
At our office, we want to fight bad breath or halitosis by making sure our patients understand how to clean their teeth, gums, the back of the tongue, and dentures.
Contact us today to schedule an appointment to discuss your questions about bad breath. You can also learn more by reading the Dear Doctor magazine article "Bad Breath: More than just embarrassing."