Posts for tag: veneers
By Larry Erwich, D.M.D.
October 31, 2012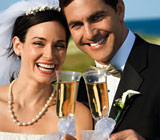 In a recent online poll conducted by Dear Doctor, the premier oral healthcare resource for consumers, 77% of those polled planned on visiting their dentist prior to their wedding. For some, this includes a thorough cleaning to remove stains and freshen both their smile and breath. However, a growing number of brides, grooms, and parents of the couple are seeking cosmetic dentistry or more specifically, a smile makeover, to transform their smile for their special day as well as their future.
If this describes your situation, take the first step towards the smile you have always wanted. To create your ideal smile, we will first meet with you to get to know you better and hear your concerns, goals, expectations and wedding day timeline. Bringing in photos or magazine images of smiles that you consider beautiful will help to ensure that we understand what you find attractive, as beauty can vary greatly from individual to individual. During this initial consultation, you will also learn about your smile makeover treatment options and what you could expect immediately prior, during and following each option.
Some subtle improvements we may consider are teeth whitening and bonding. Both of these options can take place in just a few office visits and produce very attractive results. Porcelain veneers and crowns can provide you with longer-term results that can last from 10 to 20 years. However, because they typically require 1 to 4 months advance notice, it is important to see us as soon as possible to ensure you have enough time before your special day. Another procedure that can play a dramatic role in your smile makeover is periodontal plastic surgery to improve and alter your gum tissues and their relationship to your teeth. For example, the appearance of "short" teeth can be corrected by lengthening them during a surgical procedure that has minor discomfort yet results in a life-long change.
Want to learn more?
Contact us today to discuss your smile makeover questions or to schedule an appointment. You can also learn more by reading the Dear Doctor article, "Planning Your Wedding Day Smile."
By Larry Erwich, D.M.D.
October 11, 2012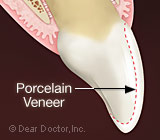 If you've ever looked through a magazine and viewed the perfectly aligned white smiles of celebrities and models, you may be already familiar with the look of porcelain veneers. To achieve a picture-perfect smile, many Hollywood stars choose porcelain veneers (thin-layers of porcelain) that are bonded to the front of teeth allowing for the alteration of tooth position, shape, size and color. By fixing imperfections, as well as whitening them, veneers offer celebrities a perfect smile that, when maintained properly, can last for several decades.
Evaluation: If porcelain veneers sound appealing, our office can help you decide if you're a good candidate for them. We will ensure you have sufficient tooth structure, that your teeth are in more or less a normal position, and that symmetrical gum contours are present, allowing for proper "framing" of the teeth, necessary for a beautiful smile.
The Process: Once it's been determined that you're a good candidate for veneers, our office will begin a smile analysis using computer imaging to digitally replicate your smile and then fabricate a mock-up smile made of tooth-colored wax. We will work with you to determine the right color and shade for your veneers. You can choose the brightest, whitest "Hollywood smile" or opt for a more natural color and enhanced look.
Next Steps: After your initial appointment, it typically takes the laboratory one week to fabricate your porcelain veneers. The insertion of your veneers can be done with or without a local anesthetic. We will place the veneers on your teeth with a light-sensitive resin, which sets with the use of a white light, effectively bonding them to your teeth. While you may initially experience some tooth sensitivity to hot or cold, this will disappear after a few days. Maintaining your perfect smile requires simple brushing and flossing techniques and routine check ups.
Contact us today to schedule an appointment to discuss any questions you may have regarding porcelain veneers. Read more about this topic in the Dear Doctor magazine article "Smile Design, Enhanced by Porcelain Veneers."
By Larry Erwich, D.M.D.
September 18, 2012
If you have a tooth that just doesn't look good because of decay or injury, a porcelain laminate veneer is probably a good way to make it look as good as it ever did — and maybe even better! Dental veneers are composed of thin layers of dental ceramic material. They essentially replace the original tooth enamel and require preparation of the tooth by removing a small amount of enamel to allow room for the placement of the veneer.
Recently, more and more dentists have been using minimal prep or prepless techniques that do not require this preparation. In such cases, the porcelain is bonded directly to the outer layer of the tooth's enamel. Highly skilled dental technicians can design a custom-fit veneer that feathers into the tooth just short of the gum line.
Prepless techniques cannot be used in all situations, but when they are used appropriately the results are beautiful and very stable. Should you get prepless veneers? The following is a list of advantages and disadvantages of prepless veneers.
Advantages of prepless veneers include:

Tooth preparation or reduction is not needed, leaving the original tooth whole.
They are not placed under the gum tissue, eliminating the possibility that the restorations negatively impact the gum tissue.
They can be used to change the appearance of teeth that are too small or misshapen making the teeth look larger and eliminate unwanted spacing.
They can be used to "lengthen" teeth that have been worn down by grinding.
Since the underlying tooth has not been reduced, prepless veneers are reversible and practically risk-free.
Disadvantages include:

There are many cosmetic situations in which they cannot be used, and traditional veneers (requiring preparation) must be used instead.
Prepless veneers cannot be used in cases in which orthodontic treatment is recommended to move the teeth, such as improper tooth position, poor bite, or a poor facial profile.
Since they are added on to existing tooth structure, they do not work for teeth that are relatively large or in a forward position in a smile.
They do not usually work for lower teeth because of space restrictions.
They cannot replace lost or damaged enamel.
Working with prepless veneers requires special skills and training. Please discuss our credentials and experience with us when you inquire about this technique. We can assess your specific situation and let you know whether restoration without the drill is appropriate for you.
Contact us today to schedule an appointment to discuss your questions about prepless veneers. You can also learn more by reading the Dear Doctor magazine article "Porcelain Veneers Without the Drill."